January 30, 2018 by Jacob Tuwiner
Listen up:
PC gaming is the best, end of story.
If you don't know a thing about computers, have no fear; this guide was made just for you.
We've put together five awesome builds ranging from $400-$800.
We promise we've got the perfect gaming PC no matter what your budget is!
NOTE: GPU & RAM prices are soaring sky high, and some of the builds below may be overpriced because of this. Prebuilt gaming PCs are still cheap and they're a great way to save money if you're looking to get into the PC gaming community. Check out our guide on
prebuilt gaming PCs
! Otherwise, you're going to overspend on parts that you could get for a lower price.
The Best Budget Gaming PC Builds
Price
Name
Image
Components
Buy on Amazon
$400
Extreme Budget Gamer

Intel Pentium G4560
MSI GTX 1050 2GB
Crucial 8GB DDR4-2133
WD RE3 500GB

Parts List
$500
Perfect Balance

Ryzen 3 1200
Gigabyte GeForce GTX 1050 Ti 4GB
Ballistix Sport LT 8GB DDR4-2400 MHz
WD Caviar Blue 1TB

Parts List
$600
Stealth Gamer

AMD Ryzen 3 1200
ASUS GTX 1060
G. Skill Ripjaws V 8GB 2400 MHz
WD Caviar Blue 1TB

Parts List
$700
Phoenix

AMD Ryzen 5 1400
ASUS GTX 1060 6GB
G. Skill Ripjaws V 8GB 2400 MHz
WD Caviar Blue 1TB

Parts List
$800
Monster

AMD Ryzen 5 1400
GeForce GTX 1070 8GB Mini
G. Skill Ripjaws V 8GB 2400 MHz
WD Caviar Blue 1TB

Parts List
Prebuilt
Prebuilt PCs

Intel i7-7700K
GeForce GTX 1060 6GB
16GB DDR4 2400 MHz
1TB 7200RPM + 256GB SSD

View Prebuilt PCs
*prices fluctuate daily. All budgets are within a $50 threshold. Some components may have been adjusted to fit the budget.
The Extreme Budget Gamer ($400)
You might think a good gaming PC goes for around $700-$800. If you bought your PC prebuilt from a big company, this may be the case. However, if you build the PC yourself, you can score awesome components for just $400. That's right, just $400.
This cheap gaming PC gives you an outstanding bang for your buck, playing the newest titles in 1080p resolution. Harnessing the power of price to performance, it will maximize your gaming experience for $400.
Featuring a GTX 1050ti and a Pentium G4560, you'll run new titles in 1080p, medium-high settings with acceptable framerates.
CPU
Intel Pentium G4560
Buy
MOBO
MSI Pro Series Intel B250 PRO-VDH
Buy
RAM
Crucial 8GB DDR4-2133
Buy
HDD
WD RE3 500GB
Buy
GPU
MSI GeForce GTX 1050 2GB
Buy
PSU
Corsair CX 450 80+ Bronze Certified
Buy
CASE
Rosewill - FBM-X1 MicroATX Mini Tower
Buy
Check out the Guide
*prices fluctuate daily. All budgets are within a $50 threshold. Click here to check the current price.
The Perfect Balance ($500)
The secret to building a cheap and powerful gaming computer is finding the perfect balance of price and performance. With this build, you receive just that. This is the best gaming PC $500 can buy.
On a budget, $500 is often the price range I recommend.
You are still spending a relatively small amount on the PC, but it is still enough to buy powerful and efficient parts.
CPU
Ryzen 3 1200
Buy
MOBO
ASRock - AB350M Micro ATX
Buy
RAM
Ballistix Sport LT 8GB DDR4-2400 MHz
Buy
HDD
WD Caviar Blue 1TB 7200RPM
Buy
GPU
Gigabyte GeForce GTX 1050ti 4GB
Buy
PSU
EVGA 400W
Buy
CASE
NZXT S340 (White)
Buy
Check out the Guide
*prices fluctuate daily. All budgets are within a $50 threshold. Click here to check the current price.
The Stealth Gamer ($600)
This PC can run the newest titles in 1080p with 60 FPS including Destiny 2, Battlefield 1, COD WW2, etc. Harnessing the power of the GTX 1060 and a new Ryzen CPU, it'll provide an outstanding overall experience.
It is sleek, refined, and low cost. For $600, you are getting a low profile PC that is quiet, powerful, and cheap.
CPU
Ryzen 3 1200
Buy
MOBO
ASRock - AB350M Micro ATX
Buy
RAM
G. Skill - Ripjaws V Series 8GB 2400 MHz
Buy
HDD
WD Caviar Blue 1TB 7200RPM
Buy
GPU
ASUS GeForce GTX 1060 3GB Dual-Fan
Buy
PSU
EVGA 450W
Buy
CASE
DIYPC - Cuboid-R
Buy
Check out the Guide
*prices fluctuate daily. All budgets are within a $50 threshold. Click here to check the current price.
The Phoenix ($700)
This gaming PC truly is majestic. While many brag about their several-thousand dollar gaming PCs, this $700 gaming PC can easily achieve 1080p and even 1440p gaming with high frame rates. It's a resilient gaming PC, hence the name.
CPU
Ryzen 5 1400
Buy
MOBO
ASRock - AB350M Micro ATX
Buy
RAM
G. Skill - Ripjaws V Series 8GB 2400 MHz
Buy
HDD
WD Caviar Blue 1TB 7200RPM
Buy
GPU
EVGA GeForce GTX 1060 6GB SC GAMING Edition
Buy
PSU
EVGA 430W
Buy
CASE
Bitfenix - Comrade
Buy
Check out the Guide
*prices fluctuate daily. All budgets are within a $50 threshold. Click here to check the current price.
The Monster ($800)
This PC is called the monster, simply because it is an absolute beast. For $800, not only are you getting an amazing gaming machine, but a powerful workstation as well.
$800 is the perfect pricepoints for gamers looking to play all of the newest titles with maxed out settings at 1080p. You will even achieve 1440p in some titles. Furthermore, this PC meets the requirements of the Oculus Rift. That's right, the PC is capable of virtual reality.
If you want to do any kind of rendering, editing, recording, or streaming, this computer can do it all.
CPU
Ryzen 5 1400
Buy
MOBO
ASRock - AB350M Micro ATX
Buy
RAM
G. Skill - Ripjaws V Series 8GB 2400 MHz
Buy
HDD
WD Caviar Blue 1TB 7200RPM
Buy
GPU
Zotac - GeForce GTX 1070 8GB Mini
Buy
PSU
EVGA 450W
Buy
CASE
NZXT S340 (Black)
Buy
Check out the Guide
*prices fluctuate daily. All budgets are within a $50 threshold. Click here to check the current price.
The Best Gaming CPUs to Consider
An essential part of any PC build is the Central Processing Unit (CPU). AMD and Intel produce the majority of desktop PC chips.
Both companies produce high-quality components that will power your build, ensuring both quick speed and dependable reliability. CPUs tend to range from $50-$250, depending on the computational power of the chip.
Below, we will list five CPUs, fitting any possible budget. The tiers will be ranked as extreme budget, low budget, medium budget, high budget, and maximum performance budget.
Each chip will be thoroughly described, as will the platform that each processor functions on. Each synopsis will enumerate factors such as clock speed, number of cores, number of threads, TDP, and most importantly, price.
This Easy PC CPU guide will help you navigate the complex marketplace so that you can be sure that your build will run well within any given budget.
Tier 1: Extreme Budget - Intel Pentium G4560
Coming in at about $75.00 the Intel Pentium G4560 is an excellent choice for budget computers. Besides being viable for everyday usage, this budget beast is a workhorse, capable of keeping up with gaming and resource-intensive multimedia functions.
This CPU is a dual-core chip on Intel's Kaby Lake microarchitecture, launched in 2016. In addition to the two cores, there is a total of four threads, which ensure that multitasking is smooth and seamless.
This model does not come with Intel's flagship Hyper-Threading, but it functions solidly and has extreme multitasking capability. The base frequency of the Pentium G4560 is a quick 3.50 GHz, while the thermal design power (TDP) amounts to a minuscule 54W.
The quick speed and low TDP help reduce the power load required for the system, while still performing to an impressive degree. As do many Intel processors, the Pentium G4560 comes with onboard graphics, which are sufficient for daily usage, though they are not optimized for any demanding graphical task.
The onboard graphics chip is capable of outputting 4K resolution at 60 Hz. Although this CPU is cheap, it is an excellent performer for most tasks. There is no need to worry about this chip bottlenecking your build. The price-to-performance ratio is optimal and the Pentium G4560 should be the immediate and clear choice for any budget builder.
Tier 2: Low Budget - Ryzen 3 1200
In the next tier, the AMD Ryzen 3 1200 is a fantastic CPU capable of powering a more powerful system. The price consistently hovers around the $110.00 mark, making it a low-price, high-performance processor.
This chip runs a quad-core design aboard the AMD Zen platform, an improvement on the notably less expensive Intel Pentium G4560. There are a total of four threads to supplement the four cores.
The base frequency of the Ryzen 3 1200 is 3.1 GHz, yet it can boost up to an impressive 3.4 GHz. One of the drawing factors for this chip is that it is unlocked, meaning that it is overclockable and can be pushed to higher performance levels at the expense of expelling more heat and demanding more power.
A stable overclock can result in speeds of almost 4.0 GHz. Since the Ryzen 3 1200 is more powerful than the Pentium G4560, it has a higher TDP of 65W at the base frequency. This processor is often accompanied by a supplemental graphics chip, so it does not feature onboard graphics; therefore, it is important to leave room in your budget for a graphics card.
In terms of processing capability, featuring the Ryzen 3 1200 in a build will annihilate gaming consoles, making them obsolete. This CPU is an excellent choice for the budget gamer who wants to play the newest games smoothly at 1080p.
Tier 3: Medium Budget - Intel Core i5-7500
Priced at $200.00, the Intel Core i5-7500 is an excellent option for gaming builds under the $1000.00 mark. Like the Pentium G4560, this CPU runs of the Kaby Lake infrastructure.
Powered by a quad-core, four thread platform, the Core i5-7500 is an excellent chip for almost any intensive task and is sufficient for any game. Despite its power, it has a minuscule TDP of 65W, akin to that of the Ryzen 3 1200.
The base frequency is 3.40 GHz, boosting up to a maximum of 3.80 GHz. Sadly, though, the CPU is not overclockable, thus the maximum remains at 3.80 GHz. Similar to the Pentium G4560, the Core i5-7500 features onboard Intel graphics, but this upper-tier chip features a more powerful graphics core - the Intel HD Graphics 630.
The processor is capable of outputting 4K video at 60 Hz via DisplayPort. Though some say that the Ryzen 5 1400 is a better option at this price point, the Core i5-7500 proves to be a clear winner in terms of performance and efficiency. As it is a powerful CPU, the Core i5-7500 leaves room for future upgrades in other areas without fear of a noticeable bottleneck on performance.
Tier 4: High Budget - Intel Core i5-8600k
Sticking with Intel CPUs in the next price tier, the Core i5-8600k is an extremely powerful processor that will last many years and will never bottleneck a system.
Priced around $260.00, it is one of the flagship chips of the 8th generation of Intel Core processors. This chip was released in late 2017 and will be a viable option for quite a while. Based at 3.60 GHz clock speed, this powerhouse is capable of turbo-boosting up to an impressive 4.30 GHz, and that is before overclocking.
With proper cooling, the Core i5-8600k runs stable at clock speeds up to 4.90 GHz. This processor features six cores and six threads, but like all other Core i5 processors, it lacks Hyper-Threading. Since the CPU is powerful, it is power-hungry, demanding a notably-high 95W TDP.
One important thing to note is that only DDR4-2666 RAM is compatible with the Core i5-8600k. Like the Intel Core i5-7500, this 8th generation processor features the onboard Intel HD Graphics 630, capable of displaying 4K video at 60 Hz through DisplayPort.
As an absolute powerhouse, this CPU allows for smooth, efficient performance for any task and any game. Video editing, live streaming, multitasking, and other intense processes are easily handled by the Intel Core i5-8600k, making it the ultimate high-budget CPU.
Tier 5: Maximum Performance Budget - Intel Core i7-8700k
If you have an almost unlimited budget and are looking for maximum performance and extreme capabilities, the expensive Intel Core i7-8700k is a viable option. This processor can handle any task thrown at it with ease.
Despite its monstrous performance, it comes with a hefty price tag, coming in around $375.00. At a base frequency of 3.7 GHz, the i7-8700k can turbo-boost up to 4.7 GHz. Since the processor is unlocked, it can safely be overclocked to almost 5.0 GHz given proper cooling.
The processor holds six cores and supports Intel's Hyper-Threading technology, hosting 12 total threads. Given its immense power, its TDP of 95W is surprisingly low. Like the other Intel processors, this CPU comes with onboard graphics and can output 4K video at 60 Hz. This chip is expensive, yet it is future-proof and can handle gaming easily, as well as intense workstation applications.
What A Processor Does and Why Expensive Ones Aren't Crucial for Gaming
In the simplest terms possible, the Central Processing Unit or CPU functions as the brain of a computer. Hooked into the motherboard, the CPU performs intricate calculations and sends instructions to various parts of the computer.
Each processor has cores and threads, which are assigned various simultaneous tasks to ensure the proper operation of the system. The processor, though, is not the essential component for successful gaming.
It is clear that there must be sufficient computing power from the CPU to enact smooth gaming, but the Graphics Processing Unit or GPU plays a more crucial role. Therefore, as long as your processor does not bottleneck, meaning hinder the system's performance, the processor is not the most important component of your build.
As a general rule of thumb, you should spend more on your graphics card than you do on your processor if you intend to game.
Choosing Parts for Your First Gaming PC
The Full Guide
This is where we get extremely in depth. We're going to cover everything you could possibly want to know about gaming PCs. You can scroll down a bit to find a table of contents which outlines the guide, section by section.
We know buying a gaming PC isn't always easy, especially if it is your first time around. It can be overwhelming to figure out what parts to buy, especially if you need to make a little bit of money go a long way.
Furthermore, once you buy the parts, then you actually have to build the computer!
Or do you?
We'll talk about all of that and more very soon. Scroll down to read more!
Why Build a Gaming PC?
Many have grown accustomed to coming home, sitting down and turning on their console. It's easy and convenient, but is it the best option?
The answer is no.
PC gaming has MANY benefits that consoles simply lack. In fact, there is NOTHING a console can do that a gaming PC cannot. If a console can do it, a PC can do it better.
A console can play video games, and maybe watch Netflix. A gaming PC can perform these tasks at higher resolutions, framerates, and graphical settings.
Moreover, this PC is more than just a gaming machine. Unlike a console, your gaming PC can edit videos, pictures, code, stream, record, surf the web, etc.
But to enjoy all of these things, you have to spend a ton of money, right?
WRONG!
Many mistakenly believe that you have to spend at least $1000 to have any sort of enjoyment from gaming on a PC.
This is the furthest from the truth, as you can EASILY achieve 60fps at 1080p resolutions with a $500, or even a $400 gaming PC. Building a dirt cheap gaming PC has never been easier.
Viable Prebuilt Option
Though many prebuilt gaming PCs aren't worth the time or the money, there are some viable prebuilt options on the market.
If you know what you're looking for, you can find some great prebuilt alternatives.
Can you build a budget prebuilt gaming pc?
The answer is yes.
The Dell Inspiron i3650 is a great option.
You can find the PC on Amazon for just $340.
The PC features:
Intel Core i3-6100
8GB DDR3 Ram
1TB Hard Drive
This PC comes without a GPU. Don't worry, this problem is easily solved.
There are lots of powerful and cheap GPUs for sale on eBay. You can easily find a GTX 1050 ti used on eBay for a low cost.
After you purchase the prebuilt desktop and the GPU, you're getting a very capable gaming machine for around $500 or less. This PC can easily game at 1080p.
Advantages of PC Gaming
PC gaming has many advantages over console gaming. After all, they don't call us the PC Master Race for nothing. We're going to illustrate some of the many pros of PC gaming. Keep reading, as some of them may not very obvious.
Better Graphics/Framerates
PC gaming will always have superior graphics and framerates than consoles. PCs can game in true 1080p, 1440p, and even 4K with over 60 frames per second and 16x MSAA.
Consoles can only game in 1080p and in some cases 720p. Usually the games' resolutions are upscaled, meaning most games aren't in true 1080p. In addition, it's rare that consoles game in true 60 fps.
Why do PCs have superior graphics/framerates?
All consoles have the exact same hardware inside. Game developers are aware of the hardware in the consoles, and they can optimize their games to run smoothly on said hardware.
This is why when you buy a console game, you don't have to worry about being able to run it. You can just pop the disc in your Xbox and start playing.
On the flip side, developers don't know what's in your PC, as every PC is a bit different. That being said, they can't optimize their game to run smoothly on your PC. Instead, they release a beautiful game and require you to meet certain spec requirements.
If you have good hardware in your rig, you'll be able to play the games with higher graphics and resolutions. If you want to, you can buy the most expensive hardware (or at least higher end hardware) and run the games with extreme settings.
With consoles, you're limited to default settings and graphics which are much worse than on the PC.
Flexibility
PC gaming is also much more flexible than console. Consoles all ship the same. They look the same and they perform the same.
PCs are all unique. They perform differently and you can design your PC exactly the way you want it.
In addition, if a part of your PC breaks, you can cheaply replace that part. However, if a part in a console breaks, you can't just buy a replacement part. Rather, you have to buy an entirely brand new console.
If you want to upgrade your PC in the future, that option is also available to you. If you own a console and want to upgrade, your options are quite limited.
For any substantial improvement, you'll have to wait for the next line of consoles. As you know, Sony and Microsoft waited many years between the PS3/Xbox 360 and the PS4/Xbox One.
With PC, you have the ability to choose when, what, and how.
PC Exclusives
PC has so many amazing games which cannot be found on console. Games like Counter Strike, Rust, PUBG, Star Citizen, and more. Steam also has a diverse selection of free to play games, such as Team Fortress 2.
Even games that can be played on console are better on the PC. The gameplay is more fluid and dynamic.
The Keyboard and Mouse
Console controllers are awesome for kicking it on the couch with your buddies and playing casual video games. However, there's a reason why consoles games have aim assist and PC games don't.
A keyboard and mouse is much easier to use than a controller, especially if you're playing a competitive shooter.
Some gaming mice feature over 16000 DPI. They can accurately trace every little movement. Joysticks don't allow the same precision. While it can be a bit tricky to master at first, using a keyboard and mouse is far superior to a controller.
If you want the benefits of PC but you're still in love with your controller, you can easily plug your controller into your PC or buy an adapter and use your Xbox or PS4 controller with your PC.
However, if you choose to go this route and you play competitive shooters, other players using the keyboard and mouse will most likely beat you. We recommend using the keyboard and mouse.
Cheaper in the Long Run
Most people believe it costs a fortune to be a PC gamer. Fortunately, this is the farthest from the truth. You can build a brand new gaming PC for just $400. If you buy used parts and you know where to look, you can build one for just $200.
That being said, it doesn't have to be expensive. In fact, there are other hidden benefits as well.
First of all, unlike Xbox Live, you don't need to pay for steam. The membership is free.
Speaking of Steam, they have amazing deals. The Steam Summer and Winter sales are absolutely insane. You can find popular AAA titles at least 50% off. There are also lots of fun free to play games.
There are also websites such as G2A.com where you can find games even cheaper than Steam. If you account for these factors, PC gaming can easily be cheaper than console gaming over the course of a year or so.
Mature Community
While its possible to build a cheap gaming PC, most believe it's very expensive. On top of this, it can be hard for first time builders to construct their first gaming PC.
With this in mind, it's easy to understand why most parents buy consoles for their children. Their kids don't have to worry about building the PC or installing drivers, etc. They also think it's cheaper.
Due to this, most PC gamers are at least in high school if not older. If you're tired of young and annoying kids talking in the microphone and you're looking for a more mature community, PC is the place for you.
How to Build a Dirt Cheap Gaming PC in 3 Easy Steps
If you're on an extremely low budget, there are still options for you if you're interested in building a gaming PC.
eBay is an excellent tool if you know how to use it. If you follow this step by step guide, you can own a great gaming machine without breaking the bank.
Keep reading to find out how to build a 1080p gaming PC for $250!
Step 1: Find an old desktop for sale on eBay
The first step to building a dirt cheap gaming PC is finding an old desktop on eBay.
You're going to have to filter through lots of desktops. This may take some time.
I'd recommend using eBay filters. Often you can find a listing that is advertised as "for parts or repair".
Many think that just because their PC won't power on, it's garbage. Little do they know, there are many parts inside the PC that can be salvaged. This will help you to save lots of money.
Finding an old used desktop is also a good path to take.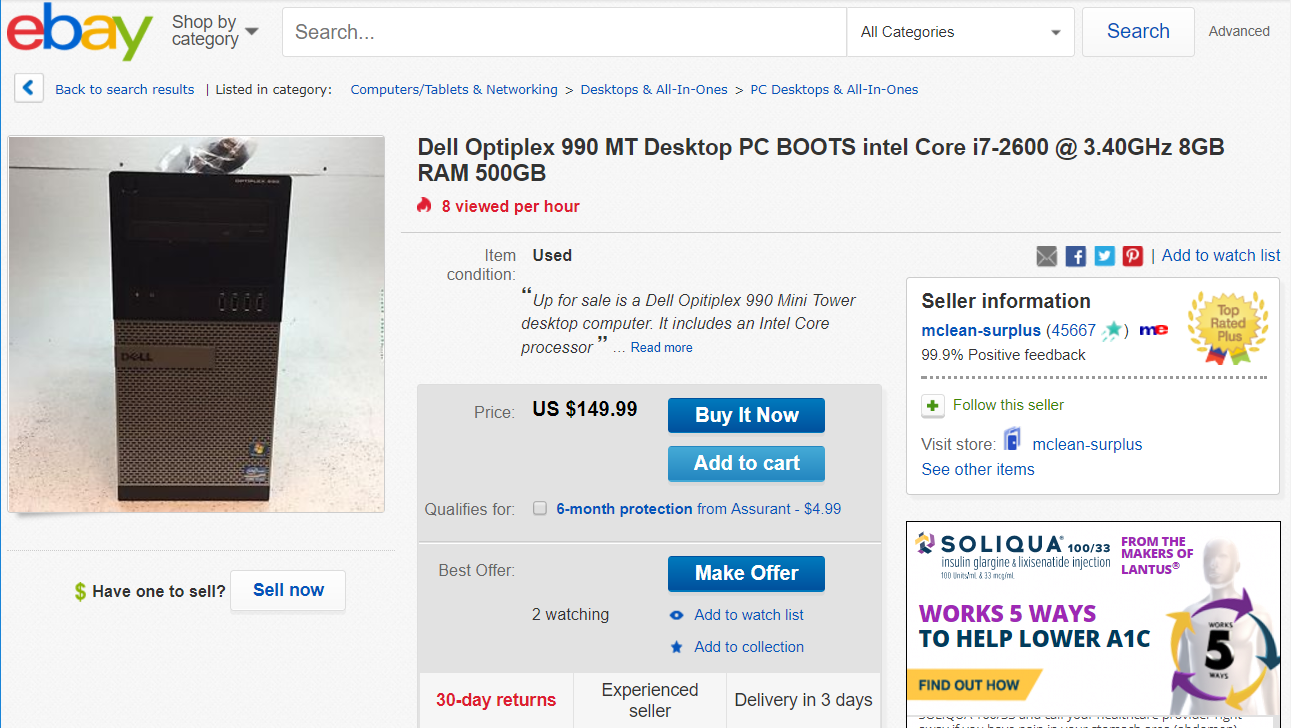 After 10 minutes or so of browsing eBay listings, I found this PC for sale.
The PC is listed for $150 which is a pretty good price, but we'll get this PC for even less.
Make sure the PC doesn't have anything wrong with it, and check out the specs of the PC.
This Dell Optiplex 990 MT PC has:
Intel Core i7-2600 3.4 GHz CPU
8GB of DDR3 Ram
500GB Hard Drive
DVD-Rom
Furthermore, you're getting the case, power supply, and motherboard all for the low price of $150. Now it's time for the next step.
Step 2: Negotiate a Price
The price of this PC is already low, but we want it even lower.
Most listings allow you to make a "Best Offer". It's always a good idea to negotiate for a lower price.
Once a price is agreed upon, make the purchase. Now we move on to our third and final step.
Step 3: Buy a GPU
The GPU is the most important part of any gaming PC. You really don't need the best processor to game. You don't even need a ton of ram. The GPU does all of the hard work.
This is why we purchased an older desktop PC and salvaged the parts. The older components are still more than capable of gaming. As long as the CPU won't bottleneck, you're good to go.
That being said, finding the right GPU is important.
Return to eBay, and search for your GPU of choice. For this example, we'll use the GeForce GTX 1050 ti. This GPU is powerful, cheap, and great for a low end budget.
Don't be afraid to buy a used GPU. I've bought many used GPUs on eBay with no problem at all. Just read the reviews of the seller and make sure they're trusted.
Once you find your GPU for sale on eBay, repeat the last step and await your parts to arrive!
There you have it, a cheap gaming PC!
Console vs. PC
When the Xbox One first launched, a day one edition console was roughly $500. Many of my friends told me they were going to buy an Xbox for $500, a laptop for $500, and an Elgato Game Capture HD for $100.
They wanted to play video games on their console, record with their Elgato, and edit videos for YouTube with their laptop.
This may seem like a great idea at first glance. However, there is a MUCH better option.
Instead of spending $1100 in total for the Xbox, laptop, and Elgato, why not spend that money on a gaming PC?
You don't even have to spend $1100. You could spend anywhere from $400-$1000 on a gaming PC.
Not only does this PC consolidate all of the gaming, recording, editing, streaming, etc. into one place, it also performs all of these tasks more effectively.
Think about it, an $800 gaming PC can run games at higher resolutions and better framerates than an Xbox. It also is much more powerful than any $500 laptop. PC gaming just makes more sense.
How to Find the Right Parts for You
As a PC building noob, it is probably difficult for you to know which parts to buy for your computer. Before you begin looking for components, ask yourself these simple questions:
What is my budget?
This is always going to be the number one factor when selecting your parts. How much money are you willing to spend on your gaming PC?
Do you have plenty of money to spend on the PC, or do you need to make a little go a long way?
If you have a higher budget, you can afford a powerful CPU and GPU such as the Ryzen 5 1600 and the GTX 1070.
However, if you are on a lower budget, you might want to save money on the CPU and focus more on the GPU to maximize performance per dollar. In this case, I'd go with the Ryzen 3 1200 and a high end GTX 1060.
Either way, figuring out your budget comes first. I recommend saving your money for a better gaming PC than spending what you have if it's only a small amount. $800 can get you a lot more than $400. Just save the extra money, and be patient.
However, if you don't have the time to wait, or you can't wait any longer, there are definitely ways for you to build a gaming PC for cheap.
Now we've arrived at our second question:
What games do I want to play?
There are so many different games available to you as a prospective PC gamer, it may be hard to wrap your head around it. That being said, some games are demanding, and some games aren't.
If you want to play games like Terraria, Counter Strike, or Minecraft, you don't need a beefy gaming computer. Most of those games with a low demand for processing power can be played on a dirt cheap gaming PC, or even on a laptop.
However, if you want to play games like Destiny 2, The Witcher 3, GTA V, Rust, etc. you'll need a powerful gaming PC, especially if you want to play with high graphical settings.
That being said, there's absolutely no reason to spend $1000 on a gaming PC if you'll be playing Minecraft on it all of the time. You can drop $400 on a computer and run Minecraft like a dream. However, if you're looking to play more demanding titles, you'll have to spend a bit more.
Now that you know what your budget is, you can move on to the next step:
Finding the Parts for You
This is often one of the hardest parts of the PC building process; it's also one of the best parts. Unlike consoles, PC provides unlimited flexibility. Not only can you design your PC to be a powerful gaming machine, you can make it look cool too.
From color schemes of components, to cases, to fans, to LEDs, there is a world of style at your finger tips. Aside from the look and feel of your components, you need to buy powerful components as well. If you're on a tight budget, go for the cheapest CPU that you can and use that money on a nice GPU.
As long as the CPU doesn't bottleneck the GPU, you won't have to worry about it. This is why the Ryzen 3 1200 usually has no issues being paired with the GTX 1070. For the same price you could pair a Ryzen 5 1400 or 1600 with a GTX 1060.
However, since gaming heavily relies on the graphics card rather than the CPU, the first combination would see better in-game performance. This is because it has a more powerful graphics card, which is responsible for all of the 3D rendering.
If you still don't know what parts to get, take a look at one of our five budget gaming PC builds.
Custom Built or Prebuilt?
There are many prebuilt gaming computers available on the market today. They advertise all the benefits of a gaming PC without any of the hassle.
Many of these PCs are falsely advertised as great alternatives to a custom build.
The manufacturers may include one good part, and cut corners on the rest of the build. It's great for them, as they're making money from ill informed consumers.
Don't become another dissatisfied customer. It's important to educate yourself before making any purchase, especially when purchasing a gaming PC.
---
Take a look at the PC below:
As you can see, this PC is going for nearly $1100 USD. Now let's take a look at what these parts would cost you:
This prebuilt PC is actually one of the better options out there, and still you can see that it is nearly $200 USD cheaper to build your own PC.
Most retailers mark up their prices even more dramatically. Evidently, building your own PC is cheaper.
Customizability is another reason why building your own PC is a good option. You can hand pick your parts, and tailor your PC exactly how you'd like it.
You can choose your own case, LED color scheme, shape, size, noise level, cooling system, etc. PC building is practically an art form.
If you only want to play a few games like Overwatch and CSGO for example, you don't have to buy a $1000 gaming PC. Instead, you can get the components you'd need to run those games, and nothing more.
On the other hand, if you want to play demanding games with the best possible graphics and framerates, you can do that too.
8 Things to Consider Before You Buy
Contact me about using this infographic on your website!
These 8 methods include:
Salvaging old parts
Buying used parts
Buying a cheap CPU
Focusing on the GPU
Looking for deals
Ask your friends
Save money on peripherals and LEDs
Be patient
Let's take a closer look at each one.
Salvaging old parts
It's easy to buy all of your parts new, but it's also more expensive.
Odds are you probably have an old desktop in your house that still has perfectly good components.
You could probably salvage an optical drive, hard drive, case, power supply, and sometimes even a motherboard and CPU.
Even if you don't have an old desktop laying around, you could buy one on eBay. This brings us to our next point.
Buy used parts
Some think you have to buy all new parts to build a great gaming PC. This is simply not true.
You can look on eBay for used parts that work just as well as new ones.
The best part?
You're getting the same great components for a lower price!
Buy a cheap CPU
If you're on a tight budget, the CPU is where you should save some money.
Why?
Any well optimized title will harness the power of the GPU over the CPU. As long as your CPU can keep up, you can focus your money on the GPU.
Focus on the GPU
As mentioned above, the GPU is the most important part of a gaming PC.
If you're on a budget, you should cut corners elsewhere and focus that money towards buying a powerful GPU.
We recommend the GTX 1050 ti as the best budget gaming GPU.
Look for Deals
There are tech deals every day online. It's easy to find them too.
Nearly all large tech corporations have a newsletter or email alert service.
Simply sign up, and let the emails flow in. More often then not they are notifying you about a great deal.
You can also negotiate on Craig's List, use a deal finder, coupon codes, etc.
Ask Friends
Ask your friends about old PCs they might have laying around. Odds are they have an old computer in their house which is full of great parts.
If you're lucky, they might have some spare parts they'd be willing to give you either for free or for a reduced price. It's a great way to save money!
Save Money on Peripherals and LEDs
Most people want a case full of cool LEDs, a mechanical keyboard with different colors and the best gaming mouse.
While these things are great additions to a PC gamer's setup, they're NOT necessary. Any mouse and keyboard will do and you don't need LEDs in your case.
It's much wiser to invest this money in your gaming PC. Later on down the line if you have the money, feel free to invest it in these extra items.
Be patient
If you don't have enough money to buy the best parts, that's okay. Just be patient and save your money.
It's better to wait and buy better parts than to impulse buy low end parts that won't do you any good.
Contact me about using this infographic on your website!