January 30, 2018 by Jacob Tuwiner
NOTE: GPU & RAM prices are soaring sky high, and some of the components below may be overpriced because of this. Prebuilt gaming PCs are still cheap and they're a great way to save money if you're looking to get into the PC gaming community. Check out our guide on
prebuilt gaming PCs
! Otherwise, you're going to overspend on parts that you could get for a lower price.
This is the best gaming PC build under 500 dollars for your money in 2018. All of the parts have been hand picked with the best price to performance in mind.
NOTE: Prices may vary
$500 Build Overview & Features
For $500, you can expect to play the newest titles at 60+ FPS with medium-ultra settings. This is thanks to our CPU/GPU combo, an excellent choice for this budget. The Ryzen 3 1200 is among the best CPUs in its class. For less than $115, you're getting a processor with four true cores. It's an outstanding price/performance ratio. Having four cores will really help with gaming performance and beyond, proving itself as a good CPU for editing, rendering, recording, and more.
In addition, the GPU of choice is also quite impeccable. The GTX 1050 Ti is also one of the best GPUs in its price range. You can find this GPU for $200 or less, and if you're on a budget, a GPU of this caliber for less than $200 is an absolute steal.
This PC can run games like PUBG, Fallout 4, GTA V, Battlefield 1, Rainbow Six: Siege, and many other titles with great framerates. You may not be able to achieve ultra settings in every title, as some are more demanding than others. However, everything will be playable.
Competitive eSports titles like CS:GO, DOTA and League of Legends will achieve 100+ FPS with ease.
We are in the midst of a GPU shortage thanks to cryptocurrency mining. It's become much harder to build a budget gaming PC at this time. GPU prices are extremely high, driving performance per dollar to the ground. You may have to purchase a $700 gaming PC in order to get the same performance that a $500 gaming PC would've gotten you a year ago.
You can check out the performance of 14 different games in this video:
$500 Build Guide
The Case
NZXT is well known for their superb case designs. The NZXT - S340 in White is no exception. Sleek, refined, spacious, and sturdy; the NZXT is the perfect case for this build.
A good case must be:
Eye catching
Aerodynamic (if you will)
The right size
Spacious
Compatible for you
How will this case benefit you?
This case is forged from steel; furthermore, it features a grommet-less cable management bar that keeps the cables tidy. It is two inches smaller than other mid-towers, and easy for new builders to use.
With a large side panel window, you'll be able to see your parts in action.
Specs:
Type - ATX Mid Tower
Color - White
Internal 3.5" Bays - 3
Internal 2.5" Bays - 2
Motherboard Compatibility - ATX, Micro ATX, Mini ITX
Maximum Video Card Length - 13.15"
Front Panel USB 3.0 Ports - Yes
The Processor
The new Ryzen 3 lineup from AMD is easily the BEST line of budget gaming CPUs on the market today.
Ryzen 3 is the final piece of the puzzel. It only comes in at $110, and blows Intel out of the water.
The processor chosen for this build is the Ryzen 3 1200.
Specs:
Data Width: 64-bit
Socket Type: AM4
Operating Frequency: 3.1 GHz
Max Turbo Frequency: 3.4 GHz
Cores: 4
Lithography: 14 nm
TDP: 65 Watts
Includes CPU Cooler: Yes
Simultaneous Multithreading: No
Integrated Graphics: No
Intel saw Ryzen coming a mile away. They gave Pentium CPUs hyperthreading in order to compete with Ryzen 3 CPUs.
However, Ryzen 3 CPUs are not just multithreaded like Intel Pentium CPUs. They are full on quad-core CPUs.
It only has half the cache of the Ryzen 5 and 7, but it still has all of the same features.
In nearly every area that doesn't involve multithreaded performance, Linus Tech Tips, both Ryzen 3 chips outperform their Intel competitors.
Ryzen 3 makes a lot of sense.
The Motherboard
The ASRock - AB350M-HDV Micro ATX AM4 motherboard was chosen for this build.
For the price of just $60, you are getting a great deal. Not only is it sturdy and reliable, it supports 2400 MHz ram.
What's the bottom line here?
Not only are you getting a superb motherboard, you're getting it for less than $70.
Specs:
Socket - AM4
Chipset - AMD B350
Memory - DDR4 2133/2400/2666/2933/3000
Memory Channel - Dual
DIMM Slots - 2x288-pin DIMM
Max Memory (GB) - 32
The Ram
Believe it or not, the speed of your ram can actually impact the performance of your processor.
That's why this build features a Crucial Ballistix Sport LT 8GB kit (2x4GB) of DDR4 2400 MHz ram. Dual channel 2400 MHz ram will help with the performance of the processor.
Though some games recommend 16GB of ram, it really has a minimal effect on frame rate. 8GB is perfect for this bugdget.
Specs:
Type - 288 pin DIMM
Speed - DDR4-2400 MHz
Size - 8GB (2x4GB)
The Hard Drive
The name WD Caviar Blue carries many attributes with it:
Mass Storage
Reliability
Simplicity
Speed
These are just a few of the many benefits of owning a WD Caviar Blue 1TB 3.5" 7200RPM internal hard drive.
Not only is this hard drive fast, it is reliable, and cost effective.
Specs:
Capacity - 1TB
Interface - SATA 6 Gb/s
Cache - 64MB
RPM - 7200
The Graphics Card
The Graphics card is responsible for just about all of the 3D rendering that takes place when your PC plays a video game.
That being said, choosing the right graphics card for your build is important.
The EVGA GeForce GTX 1050 Ti 4GB ACX 2.0 is the graphics card of choice. Currently with the extreme markup of AMD graphics cards, nVidia is the best choice in terms of price to performance.
On this budget, the 1050 ti is all around the best choice for a few reasons:
Not only is this card rocking 4GB of DDR5 dedicated memory, it has a core clock of 1.29 GHz.
What's so good about this?
Higher resolution in game
Higher frames per second
Higher graphical settings
Multiple monitor capability
Specs:
Chipset - GeForce GTX 1050 Ti
Memory Size - 4GB
Memory Type - GDDR5
Base Frequency - 1.29 GHz
Boost Frequency - 1.39 GHz
TDP - 75 Watts
Length - 5.71"
The Power Supply
The reliability of your power supply is important. Furthermore, it is crucial to use a power supply with the proper wattage.
Why?
If you fail to do either of these two things, one or both of the following will happen:
A) Your power supply will short out your PC

B) Your power supply will fail completely
This build is rated at 211 watts. That being said, the EVGA 400W ATX power supply is the choice for this build.
It has more than enough power, and combined with its $30 price tag, it is an absolute steal.
Specs:
Type - ATX
Wattage - 400 Watts
Fans - 1
Modular - No
Efficiency - 80+
PCI-Express 6+2-Pin Connectors - 1
PCI-Express 6-Pin Connectsors - 1
Intel i3 vs. Ryzen 3
Up until recently, it was obvious that AMD's Ryzen 3 line held the title of "The King of Budget Gaming CPUs". Before Ryzen 3 was released, your only real options were the skylake i3 CPUs, or the Pentium G4560. Both choices didn't sport four cores; only dual cores with hyperthreading.
At the time they were great, as the four threads did a great job. Of course, once AMD launched a quad core CPU for a lower price, it was game over. AMD's Ryzen line outperformed Intel's closest offerings in just about every category except for single-threaded performance.
As we all expected, Intel fought back. They released their Coffe Lake CPUs, the 8th generation of the Intel i3 line. They're priced similarly to the Ryzen 3 line, and they have four true cores as well. In fact, they show similar if not better performance in most categories.
Unfortunately, the lowest-priced motherboards available for this chip at this time are all over $100. This makes it hard to consider them a "budget gaming CPU".
Until cheaper motherboards are released for the new line of Intel CPUs, Ryzen 3 will remain our budget CPU of choice.
The GPU: This Will Make or Break Your Gaming PC
The GPU is singlehandedly the most important part of your gaming PC build. From a gaming standpoint, the GPU does all of the hardwork. Don't get me wrong, you need every other component too, as a PC isn't a PC without each one.
However, you can definitely afford to spend less on the other parts and focus on the GPU. This is how most prebuilt gaming PC companies make their money. They'll sell you a PC with mediocre parts and a crappy GPU, all inside of a good looking case. They trick people who don't know what to look for into spending their money.
Custom vs. Prebuilt Gaming PCs
Most prebuilt gaming PCs come with a powerful CPU, like an Intel i7. They have lots of RAM and a huge hard drive. Unfortunately, the manufacturers don't tell you the truth.
What truth?
Those things don't matter. They put crappy components in a nice case and market it as a "gaming PC".
Well, we have news for you. These overpriced and underpowered prebuilt "gaming PCs" don't deserve the title. Video games aren't really processed by the CPU. In fact, they're processed by the GPU. The GPU is responsible for just about all of the 3D rendering and graphical processing. Hence the name "Graphics Processing Unit".
As long as your CPU is fast enough to keep up with the GPU, you're in good shape. This means you can save some money and buy a cheaper CPU. With the money you saved, spend it on a more powerful GPU. Your powerful GPU will handle all of the 3D rendering in game, resulting in great FPS.
However, this doesn't mean you can buy the cheapest CPU on the market. If your CPU is too underpowered, it'll hold back the GPU. This is called bottlenecking.
Anyway, back to the parts of a prebuilt gaming PC. Remember how I told you the GPU does all of the heavy lifting? Well, if you bought a prebuilt desktop with an Intel i7 and a GTX 750, you're out of luck.
Instead, buy this gaming PC. It's under 500 dollars, and it has a great CPU/GPU combination. You'll be gaming with high framerates and graphical settings.
Our Thoughts on a $500 Gaming PC
When most console peasants hear someone say they're a PC gamer, most automatically think they don't have enough money to become a PC gamer. Unfortunately, most people think it takes $1,000 or more to be a PC gamer. This is simply not true.
In fact, this build proves that you can game in 1080p with just $500. If you know where to allocate your funds, you're good to go. This is the best gaming pc build under $500, and here's why:
We decided to save money on the CPU, and allocate those funds towards the GPU. This way, your faster GPU will do the heavy lifting, and all your CPU has to do is keep up. The Ryzen 3 1200 is the CPU of choice for the build. It's a great budget CPU, the first in its pricepoint to have 4 true cores. We chose the GTX 1050 Ti as our GPU for this build. It's probably the best GPU for those on a budget. Its price/performance ratio is outstanding.
Anyway, we feel that $500 is the perfect budget for those looking for a gaming PC that won't break the bank. If you spend less than that, your parts will be sub-par and you might as well spend the extra money. However, anything over $500, and you're probably spending a bit too much, especially if you're on a lower budget.
Looking for an even cheaper gaming PC? Check out this 1080p gaming machine for just $250!
How to Build a Dirt Cheap Gaming PC in 3 Easy Steps
If you're on an extremely low budget, there are still options for you if you're interested in building a gaming PC.
eBay is an excellent tool if you know how to use it. If you follow this step by step guide, you can own a great gaming machine without breaking the bank.
Keep reading to find out how to build a 1080p gaming PC for $250!
Step 1: Find an old desktop for sale on eBay
The first step to building a dirt cheap gaming PC is finding an old desktop on eBay.
You're going to have to filter through lots of desktops. This may take some time.
I'd recommend using eBay filters. Often you can find a listing that is advertised as "for parts or repair".
Many think that just because their PC won't power on, it's garbage. Little do they know, there are many parts inside the PC that can be salvaged. This will help you to save lots of money.
Finding an old used desktop is also a good path to take.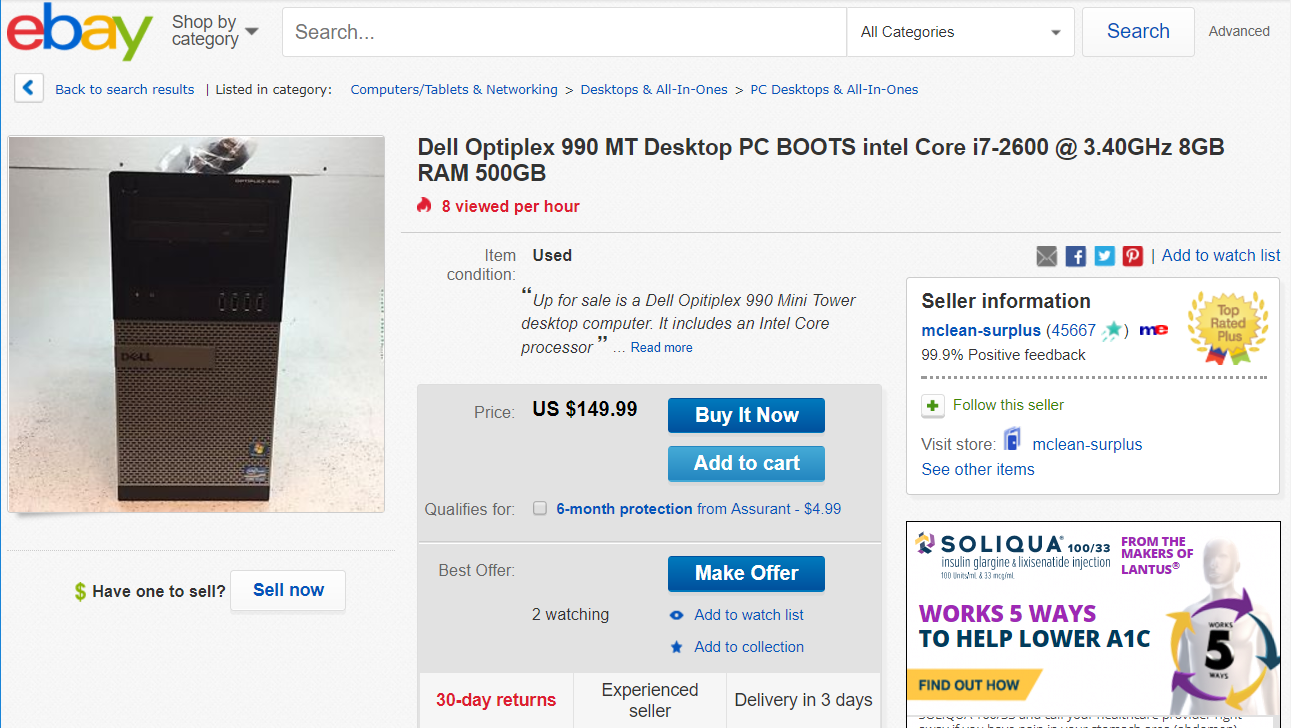 After 10 minutes or so of browsing eBay listings, I found this PC for sale.
The PC is listed for $150 which is a pretty good price, but we'll get this PC for even less.
Make sure the PC doesn't have anything wrong with it, and check out the specs of the PC.
This Dell Optiplex 990 MT PC has:
Intel Core i7-2600 3.4 GHz CPU
8GB of DDR3 Ram
500GB Hard Drive
DVD-Rom
Furthermore, you're getting the case, power supply, and motherboard all for the low price of $150. Now it's time for the next step.
Step 2: Negotiate a Price
The price of this PC is already low, but we want it even lower.
Most listings allow you to make a "Best Offer". It's always a good idea to negotiate for a lower price.
Once a price is agreed upon, make the purchase. Now we move on to our third and final step.
Step 3: Buy a GPU
The GPU is the most important part of any gaming PC. You really don't need the best processor to game. You don't even need a ton of ram. The GPU does all of the hard work.
This is why we purchased an older desktop PC and salvaged the parts. The older components are still more than capable of gaming. As long as the CPU won't bottleneck, you're good to go.
That being said, finding the right GPU is important.
Return to eBay, and search for your GPU of choice. For this example, we'll use the GeForce GTX 1050 Ti. This GPU is powerful, cheap, and great for a low end budget.
Don't be afraid to buy a used GPU. I've bought many used GPUs on eBay with no problem at all. Just read the reviews of the seller and make sure they're trusted.
Once you find your GPU for sale on eBay, repeat the last step and await your parts to arrive!
There you have it, a cheap gaming PC!
8 Ways to Build a Budget Gaming PC
I wanted to illustrate 8 ways to save money when building a gaming PC on a tight budget.
These 8 tips should help you build a cheap gaming PC (see our guide on building a dirt cheap gaming PC).
This infographic does a great job illustrating the 8 ways you can save money when building a gaming PC.
Contact me about using this infographic on your website!
These 8 methods include:
Salvaging old parts
Buying used parts
Buying a cheap CPU
Focusing on the GPU
Looking for deals
Ask your friends
Save money on peripherals and LEDs
Be patient
Let's take a closer look at each one.
Salvaging old parts
It's easy to buy all of your parts new, but it's also more expensive.
Odds are you probably have an old desktop in your house that still has perfectly good components.
You could probably salvage an optical drive, hard drive, case, power supply, and sometimes even a motherboard and CPU.
Even if you don't have an old desktop laying around, you could buy one on eBay. This brings us to our next point.
Buy used parts
Some think you have to buy all new parts to build a great gaming PC. This is simply not true.
You can look on eBay for used parts that work just as well as new ones.
The best part?
You're getting the same great components for a lower price!
Buy a cheap CPU
If you're on a tight budget, the CPU is where you should save some money.
Why?
Any well optimized title will harness the power of the GPU over the CPU. As long as your CPU can keep up, you can focus your money on the GPU.
Focus on the GPU
As mentioned above, the GPU is the most important part of a gaming PC.
If you're on a budget, you should cut corners elsewhere and focus that money towards buying a powerful GPU.
We recommend the GTX 1050 Ti as the best budget gaming GPU.
Look for Deals
There are tech deals every day online. It's easy to find them too.
Nearly all large tech corporations have a newsletter or email alert service.
Simply sign up, and let the emails flow in. More often then not they are notifying you about a great deal.
You can also negotiate on Craig's List, use a deal finder, coupon codes, etc.
Ask Friends
Ask your friends about old PCs they might have laying around. Odds are they have an old computer in their house which is full of great parts.
If you're lucky, they might have some spare parts they'd be willing to give you either for free or for a reduced price. It's a great way to save money!
Save Money on Peripherals and LEDs
Most people want a case full of cool LEDs, a mechanical keyboard with different colors and the best gaming mouse.
While these things are great additions to a PC gamer's setup, they're NOT necessary. Any mouse and keyboard will do and you don't need LEDs in your case.
It's much wiser to invest this money in your gaming PC. Later on down the line if you have the money, feel free to invest it in these extra items.
Be patient
If you don't have enough money to buy the best parts, that's okay. Just be patient and save your money.
It's better to wait and buy better parts than to impulse buy low end parts that won't do you any good.