This is the #1 best gaming PC under 400 dollars for your money in 2017. All of the parts have been hand picked with the best price to performance in mind.
NOTE: Prices may vary.
The Case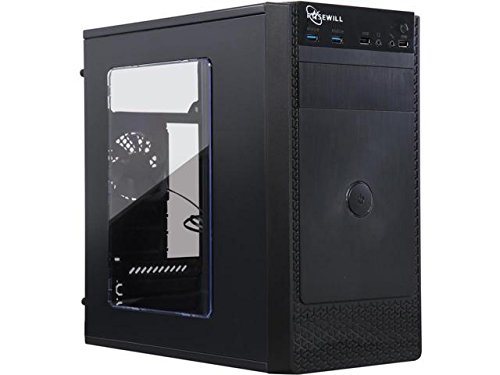 The case is more than just a pretty looking box. In fact, it is much more than that.
A good case must be:
Eye catching
Aerodynamic (if you will)
The right size
Spacious
Compatible for you
These factors must be kept in mind when deciding which case is right for you. This is why the Rosewill - FBM-X1 MicroATX Mini Tower Case is the case of choice for this build.
This case is an amazing deal. For under $30, you're getting a case with a side panel window, and front panel USB 3.0 headers.
Most cases with these features are usually in the $40+ range. Furthermore, cable management is no problem.
Cable management is important to keep in the back of your head when wiring your PC.
Not only does it make the inside of your PC look better, it improves airflow. This helps to keep your PC nice and cool while you're pushing it to the limit.
Specs:
Type - MicroATX Mini Tower
Color - Black
External 5.25" Bays - 1
Internal 3.5" Bays - 1
Internal 2.5" Bays - 1
Motherboard Compatibility - Micro ATX, Mini ITX
Maximum Video Card Length - 11.81"
The Processor
The Pentium G4560 is the perfect choice for any budget gaming computer.
Here's why:
Though most games are not very processor intensive, it is still important to have a processor that can keep up with the graphics card without bottlenecking.
The Pentium G4560 has a base clock of 3.5GHz, which is less than the i3-6100's clock speed of 3.9GHz.
But that is the best part.
Due to the brand new Kaby Lake architecture, it can be paired with 2400MHz ram. What does this mean?
It means that using higher frequency ram can compensate for the processor's frequency deficit.
But here's the kicker:
Even though this processor can be found for $60, it outperforms the i3-6100, which is priced over $100.
Specs:
Cores - 2
Threads - 4
Hyperthreading - Yes
Base Frequency - 3.5 GHz
TDP - 54 W
Cache - 3 MB
Lithography - 14 nm
Memory Types - DDR4-2133/2400, DDR3L-1333/1600 @ 1.35V
Hyperthreading technology is what makes this processor so powerful. Though it only has 2 physical cores, each core is able to process 2 threads, instead of just one.
So what? What's the big deal?
The big deal is, this means it effectively has 4 cores, not 2.
Each thread acts as its own core. The processor, instead of having just 2 physical cores, now has 2 physical and 2 theoretical cores. Video games, editing softwares, etc. detect 4 cores, not two. Since most games utilize all 4 cores of a processor, this is incredible.
The Motherboard
The MSI Pro Series Intel B250 micro-ATX motherboard is the motherboard of choice for this build.
Not only is it sexy, it is reliable and easy to use.
The best part?
This motherboard has a b250 chipset. This is very important. It allows for the use of 2400MHz memory, which boosts the performance of the processor.
What's the bottom line here?
For less than $70, you are getting a component that will not only do a great job, it will do that job for a long time.
Specs:
Socket - 1151
Chipset - Intel® B250 Chipset
Memory - DDR4 2400/ 2133 MHz
Memory Channel - Dual
DIMM Slots - 2
Max Memory (GB) - 32
Here at Easy PC, getting the best bang for your buck is high on the list of priorities. This means recommending parts that will last a long time. This motherboard will do just that.
The Ram
The most important part of any gaming PC is the GPU. On such a low budget, it's important to allocate all possible resources towards the best GPU.
Unfortunately, this does mean cutting corners in other areas of the build.
Though 8GB of ram is optimal, this build is only able to include 4GB of ram. 1 stick of Corsair Vengeance LPX 4GB (1 x 4GB) DDR4 2400 MHz ram was chosen.
On the bright side, it is clocked at 2400 MHz, boosting the performance of the CPU under load.
At the end of the day, 4GB of ram will have a minor impact on in game performance, and can easily be upgraded in the future. Specs:
Type - 288 pin DIMM
Speed - DDR4-2400
Size - 4GB (1x4GB)
The Hard Drive
The name WD Caviar Blue carries many attributes with it:
Mass Storage
Reliability
Simplicity
Speed
These are just a few of the many benefits of owning a WD Caviar Blue 1TB 3.5" 7200RPM internal hard drive.
Not only is this hard drive fast, it is reliable, and cost effective.
With 1TB of storage, you will have plenty of room for everything you could ever want on your gaming PC.
Specs:
Capacity - 1TB
Interface - SATA 6 Gb/s
Cache - 64MB
RPM - 7200
The Graphics Card
NOTE: The price of the GPU has risen since the creation of this build due to ethereum mining.
The graphics card is easily the MOST important part of the gaming computer.
This is the part that handles the majority of the gaming workload. It is crucial that your gaming PC has the proper graphics card.
You're in luck.
Gigabyte - GeForce GTX 1050 Ti 4GB Video Card made the cut for this build.
Not only is this card rocking 4GB of DDR5 dedicated memory, it has a core clock of 1.29 GHz.
What's so good about this?
Higher resolution in game
Higher frames per second
Higher graphical settings
Multiple monitor capability
For the price, the Gigabyte - GeForce GTX 1050 Ti 4GB is the best choice for this build.
Specs:
Chipset - GeForce GTX 1050 Ti
Memory Size - 4GB
Memory Type - GDDR5
Base Frequency - 1.29 GHz
Boost Frequency - 1.43 GHz
TDP - 75 Watts
Length - 6.77"
The Power Supply
The reliability of your power supply is important. Furthermore, it is crucial to use a power supply with the proper wattage.
Why?
If you fail to do either of these two things, one or both of the following will happen:
A) Your power supply will short out your PC

B) Your power supply will fail completely
This build is rated at 211 watts. That being said, the EVGA 400W ATX power supply is the choice for this build.
It has more than enough power, and combined with its $30 price tag, it is an absolute steal.
Specs:
Type - ATX
Wattage - 400 Watts
Fans - 1
Modular - No
Efficiency - 80+
PCI-Express 6+2-Pin Connectors - 1
PCI-Express 6-Pin Connectsors - 1