Updated May 26th, 2018 by Jacob Tuwiner
Listen up:
We all know that PC gaming is superior to console gaming.
However, building a gaming PC can be challenging, especially if you're on a tight budget.
Luckily for you, I've created two awesome $400 gaming PC builds for Team Red and Team Blue.
One of them is an Intel build, and the other an AMD build.
Let's get started:
Best $400 Gaming PC: Intel
$400 Gaming PC: Intel Build Guide
Nowadays, it can be pretty tough to build an affordable gaming PC. Although GPU prices have come down a bit, they're still expensive, especially compared to their price about a year ago.
Take a look at this graph of GPU prices over time:
Prices have cooled off since then, but they're not what they used to be – it might be a bit difficult to build an affordable gaming PC if you don't know where to look.
Fortunately, though, we've got your back. The Extreme Budget Gamer is a budget oriented gaming PC, designed with the best price to performance in mind. Here at Easy PC, we ensure you get the most bang for your PC gaming buck!
This build ensures you only spend money where it is necessary.
$400 wasn't quite enough for the Ryzen 3 1200, so we had to go for the Intel Pentium G4560. Don't worry – it's the best budget CPU on the market. Even though it's just a dual-core, it has hyperthreading, effectively making it a quad-core CPU.
For the GPU, we went for the GTX 1050. Although a 1050 Ti is ideal for this price range, it is a bit too expensive for the build (at least, without going over the budget).
The 1050 is perfect for e-sports titles like CS:GO, League of Legends, Dota 2, etc. If you want to play more intensive games, you might want to check out our $500 gaming PC build. Remember, the more you can save for your PC, the better it will be!
If you have the extra money, try to buy an SSD, as they significantly improve your PC's loading speeds. While it won't have any impact on framerate, it will affect boot speeds, and improve your PC's overall usability. We HIGHLY recommend buying one! (Due to the build's low budget, we couldn't fit one in – however, if you have an extra $60, you can buy a 240GB SSD, perfect for Windows, drivers, and games.)
Keep reading for the full build guide!
The Case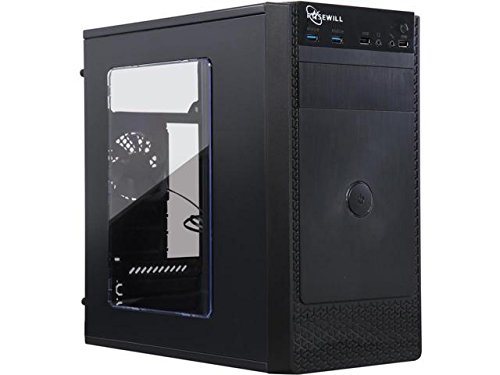 The case is more than just a pretty looking box. In fact, it is much more than that.
A good case must be:
Eye catching
Aerodynamic (if you will)
The right size
Spacious
Compatible for you
These factors must be kept in mind when deciding which case is right for you. This is why the Rosewill - FBM-X1 MicroATX Mini Tower Case is the case of choice for this build.
This case is an amazing deal. For under $30, you're getting a case with a side panel window, and front panel USB 3.0 headers.
Most cases with these features are usually in the $40+ range. Furthermore, cable management is no problem.
Cable management is important to keep in the back of your head when wiring your PC.
Not only does it make the inside of your PC look better, it improves airflow. This helps to keep your PC nice and cool while you're pushing it to the limit. You can read the reviews of this product here.
The case has an 80mm case fan and a 120mm case fan to keep the interior of the case cool.
For more information on cases, check out our guide on the smallest ATX cases!
Specs:
Type - MicroATX Mini Tower
Color - Black
External 5.25" Bays - 1
Internal 3.5" Bays - 1
Internal 2.5" Bays - 1
Motherboard Compatibility - Micro ATX, Mini ITX
Maximum Video Card Length - 11.81"
The Processor
The Pentium G4560 is the perfect choice for any budget gaming computer.
Here's why:
Though most games are not very processor intensive, it is still important to have a processor that can keep up with the graphics card without bottlenecking.
The Pentium G4560 has a base clock of 3.5GHz, which is less than the i3-6100's clock speed of 3.9GHz.
But that is the best part.
Due to the brand new Kaby Lake architecture, it can be paired with 2400MHz ram. What does this mean?
It means that using higher frequency ram can compensate for the processor's frequency deficit.
But here's the kicker:
Even though this processor can be found for $60, it outperforms the i3-6100, which is priced over $100.
Specs:
Cores - 2
Threads - 4
Hyperthreading - Yes
Base Frequency - 3.5 GHz
TDP - 54 W
Cache - 3 MB
Lithography - 14 nm
Memory Types - DDR4-2133/2400, DDR3L-1333/1600 @ 1.35V
Hyperthreading technology is what makes this processor so powerful. Though it only has 2 physical cores, each core is able to process 2 threads, instead of just one.
So what?
This means it effectively has 4 cores, not 2.
Each thread acts as its own core. The processor, instead of having just 2 physical cores, now has 2 physical and 2 theoretical cores. Video games, editing softwares, etc. detect 4 cores, not two.
Since most games utilize all 4 cores of a processor, this is quite beneficial for in-game performance.
The Motherboard
The MSI Intel B250M PRO-VDH micro-ATX motherboard is the motherboard of choice for this build.
This motherboard is budget friendly and easy to use. It doesn't have any fancy features, but it gets the job done which is exactly what we're looking for.
What's the bottom line here?
For around $50, you are getting a component that will not only do a great job, it will do that job for a long time.
Specs:
Socket - 1151
Chipset - Intel® B250 Chipset
Memory - DDR4 2400/ 2133 MHz
Memory Channel - Dual
DIMM Slots - 4 x 288-pin DIMM
Max Memory (GB) - 64
The Ram
For this build, one 8GB Stick of Crucial RAM was selected.
Prices of RAM are through the roof, and it can be difficult to fit 8GB into a budget build; lucky for you, we did just that.
It's 2018 and most games require 8GB of ram now. Some are recommending the use of 12GB and even 16GB.
You could save some money if you chose 4GB of RAM instead, but there are many games that won't even launch anymore with only 4GB of RAM.
On the contrary, 8GB is still good for gaming right now, and there's always room for upgrades in the future.
Specs:
Type - 288 pin DIMM
Speed - DDR4-2133
Size - 8GB (1x8GB)
The Hard Drive
The WD Caviar Blue 1TB 7200RPM internal HDD has become the standard mass storage drive of budget gaming PCs. It offers a TB of fast, reliable storage for just $50. It's really a great deal, and it's hard to beat it.
We didn't have the budget for an SSD which isn't ideal; however, this build can be easily upgraded to accomodate multiple HDDs or SSDs.
While an SSD is optimal for your OS and games, it doesn't actually have any impact on your FPS or graphics. This PC is a gaming PC, and it's being designed to provide the best in-game performance for the money.
However, SSDs do make a pretty big difference in boot speeds and the overall user experience of your PC in my opinion. You can buy a 120 GB SSD for just $50 or a 240GB SSD for $70. The 240GB SSD offers double the storage and more storage per dollar.
The Graphics Card
The GPU is the component of the PC that handles all of the 3D rendering. If you're building a gaming PC, this is the part you should really focus on.
You don't need the fastest CPU on the market, as most games don't utilize much of the CPU's processing power. You'll get the best gaming performance if you buy the best GPU that you can afford. This means sacrificing some power elsewhere in the build.
I see prebuilt gaming PC manufacturers selling PCs with 16GB of RAM, an i7 CPU and an old crappy GPU. They trick uneducated consumers into buying their PC which is advertised as a gaming PC, when really it won't perform well at all.
In this build we picked a budget friendly CPU and only 8GB of RAM, but we were able to include a good GPU.
For this build, we're going to be using the MSI GTX 1050 2GB. While you won't be maxing out every game with 60 FPS, you can definitely achieve 40-60FPS with a mix of medium-high settings in 1080p resolution. On a $400 budget, this is pretty darn good.
In my opinion one of the main drawbacks of this GPU is the amount of dedicated video memory (VRAM). If you want to turn your textures up to ultra, you'll need a decent amount of VRAM. With this GPU you'll have to turn your textures down a bit, but other than that it'll be fine.
This video shows this card's performance in 8 different games. The number in the top-left corner of the screen is the FPS counter.
As you can see, this GPU really packs a punch for the price.
Chipset - GeForce GTX 1050
Memory Size - 2GB
Memory Type - GDDR5
Base Frequency - 1.35 GHz
Boost Frequency - 1.46 GHz
TDP - 75 Watts
Length - 7.17"
The Power Supply
It's important to choose the right power supply, as they can make or break your build (literally).
If your power supply isn't up to par, your PC won't even turn on. If your PSU isn't efficient then your electricity bill will soar. Worst case scenario, your PSU short circuits and damages or destroys the some or all of your components.
Lucky for you, we've got you covered. Corsair has a great selection, and the CX 450 80+ Bronze Certified PSU made the cut for our budget.
It's a power efficient and reliable PSU, providing the perfect wattage for the build. It also allows for some overclocking later down the line if you choose to do so.
Specs:
Type - ATX
Wattage - 450 Watts
Fans - 1
Modular - No
Efficiency - 80+ Bronze
PCI-Express 6+2-Pin Connectors - 2
$400 Gaming PC: AMD Build Guide
Now we're going to take a look at my $400 AMD gaming PC. thanks to the power of AMD's Ryzen CPUs, you'll be able to build an affordable yet powerful gaming PC for ~$400.
The Case
The Cougar MX330 is an ATX mid tower case. I chose this case for a few reasons:
Affordability
Spacious
Cable Management
Looks
Airflow
The case has a relatively low price tag, yet it still has everything you'd want in a good gaming case.
It has several fans included with the case, plenty of space for your components, it looks good, and has great cable management options, too.
It's hard to build a proper gaming PC on a $400 budget, so I wasn't able to include a fancy case in the build. I was looking for something that gets the job done, and looks good too.
The Cougar MX330 is aesthetically pleasing, and functional too. You can mount plenty of case fans, and the interior is spacious, especially for a mid-tower case. Having a spacious interior is important for cable management, and as a consequence, good airflow.
The Processor
This is the Team Red version of the $400 gaming PC, so I decided to include AMD's new Ryzen 3 1200.
As opposed to Intel's Pentium G4560, which only has two physical cores, the Ryzen 3 1200 actually has four physical cores and four threads.
But that's not all:
The Ryzen 3 1200 can be purchased for less than $100! That's right, a quad-core CPU for less than $100.
Better still, Ryzen CPUs really shine when overclocked, and the Ryzen 3 1200 comes with a superb stock cooler. I was able to overclock my CPU to 4.0 GHz with the stock cooler, without any issues.
The Ryzen 3 1200 beats out just about every single Intel CPU in its weight class in nearly all tests. If you're gaming, having four cores will boost your performance and help with multitasking as well.
The Pentium G4560 has hyperthreading, which means it has two physical cores and four threads (two theoretical cores). If you plan to do any sort of streaming, editing, rendering, recording, etc. having a quad-core CPU will prove especially useful.
What's the bottom line here?
The Ryzen 3 1200 is a fantastic CPU capable of multitasking, gaming, and overclocking, all for less than $100.
The Motherboard
I chose a Micro-ATX motherboard for this build, primarily because they're cheaper. Unfortunately, Micro-ATX boards don't have the same amount of features and customizability that traditional ATX boards offer, but you really can't expect that on a $400 budget.
The ASRock - AB350M HDV was chosen for the build. It has an AB350 chipset which is necessary for overclocking.
Given the Ryzen 3 1200's overclocking potential, it would be a shame to buy a motherboard that doesn't support overclocking.
It has two 288-pin DIMM slots with a maximum supported memory of 32GB and a maximum supported RAM frequency of 3200 MHz.
It has four SATA 6 ports, onboard ethernet, and onboard USB 3.0 headers.
This board doesn't have any fancy or extravagent features, but it supports overclocking, has sufficient RAM slots, and it's affordable too.
The RAM
As opposed to the Intel build, which has DDR4-2133 RAM, I decided to select 8GB of DDR4-2400 RAM in the AMD version. More specifically, I chose G.Skill - Ripjaws V Series 8GB (2 x 4GB) DDR4-2400 Memory.
Since this build features an AMD Ryzen 3 1200, RAM speed is going to have a significant impact on the CPU's performance, particularly in gaming related tasks.
When I conducted benchmark tests in several different titles, particularly more demanding titles including the Witcher 3 and PUBG, my framerate was improved by a considerable margin when I used DDR4-2400 RAM, instead of DDR4-2133.
I was only able to include 8GB of RAM in the build. If you had the money in your budget for a beefier gaming PC, you'd probably want to include 16GB of RAM. Newer titles are starting to recommend more than just 8GB of RAM for optimal performance, although I've yet to see a game with more than 8GB as its minimum RAM requirement.
In all fairness, having 8GB of RAM in a $400 is pretty impressive. I've seen plenty of builds across the web under the $400 mark that cut corners in the RAM department, only including 4GB of RAM.
I decided it was important to include 8GB of RAM, especially in 2018. If you want to play popular games like PUBG or Fortnite, you'll experience severe stuttering without having a minimum of 8GB of RAM.
The RAM kit featured in this build is a 2x4GB RAM kit, which means you'll be harnessing the power of dual channel memory, which is faster than if you used one stick.
However, this PC only has two DIMM slots for RAM.
What does this mean for you?
With the current build as it is, you'll already have two sticks of 4GB of RAM in the DIMM slots. If you wanted to upgrade to 16GB of RAM, rather than simply buying two more 4GB sticks for a total of 4 (4x4 = 16), you'll have to sell your old 4GB sticks and buy two 8GB sticks.
It's not ideal for upgradability. If you think you'd like to have 16GB of RAM later on down the line, I'd recommend buying a singular 8GB stick of RAM instead. This way, you'll be able to upgrade with an additional 8GB stick in the future.
Still, in my opinion, it makes more sense to go with the 2x4GB kit right off the bat. On such a low budget, your PC isn't going to be a powerhouse – at least, it'll be far less powerful than if you decided to spend $800-$1000 on a PC.
With that being said, adding an additional 8GB of RAM won't make much of a difference, so it doesn't really make sense unless you upgrade the rest of your PC as well. At that point, you're basically buying a brand new rig anyway. You might as well utilize faster dual channel RAM speeds from the beginning.
The Storage
Like many of my other builds, I chose a 1TB 7200RPM WD Caviar Blue hard drive for this build. It's a reliable form of mass storage for less than $50.
If you have an extra $60 in your budget, I'd highly recommend adding an additional solid state drive to your build. The difference in speed between an SSD and a mechanical drive is like night and day.
You can find a 240GB SSD for around $60 on Amazon. Simply install your Windows OS and drivers on the SSD, in addition to a few of your favorite games. The rest of your files can be kept on your mass storage drive.
You'll notice your PC boots up almost immediately, and you won't have to wait for your PC to 'warm up' shortly after turning it on.
Furthermore, if you install a game on your SSD, your loading speeds will be noticeably improved. You'll be among the first to load into a game.
Overall, they're well worth the investment. Unfortunately on a low budget, I couldn't include both, and I figured you wouldn't want to be limited to a mere 240GB of storage. Having the 1TB drive in addition to 240GB of storage on an SSD, however, is definitely ideal.
The Graphics Card
For this PC, I decided to include the same graphics card as the Intel build, the GTX 1050 2GB.
It's a budget friendly GPU that gets the job done. Don't get me wrong, you're not going to be able to max out every title in 1080p with ultra settings, but you really can't expect that from a $400 gaming PC. It's just not practical, unless you buy some parts used from eBay.
However, you will be able to enjoy light 1080p gaming with low-medium settings and respectable framerates. If you'd prefer an AMD card, you could always substitute this GPU with the Radeon RX 550 or the Radeon RX 560.
The PSU
Buying the right power supply for your PC is important.
Why?
Well, if you buy a power supply that can't provide sufficient power to your components, it could short out, thus damaging your PSU and possibly your components.
If you buy a power supply that isn't power efficient, you'll end up wasting lots of electricity, and as a consequence, lots of money.
Lastly, if your power supply has a bunch of extra cables, you'll have trouble with cable management. It's important to keep your cables nice and tidy, not only because it looks better, but also because it improves airflow.
With all of that being said, it should be easy to see why choosing the proper power supply is important.
For this build, I chose the EVGA - BR 450W 80+ Bronze Certified ATX Power Supply.
This PSU doesn't have any crazy features to bring to the table, but it surely gets the job done, which is all you can ask from a PSU on a $400 budget.
It is a 450 watt power supply, which is more than sufficient for this build, even if you choose to overclock your CPU. If you wanted to run an SLI configuration, you'd need a beefier power supply, but that wouldn't make any sense on a $400 budget.
Moreover, you'd have to upgrade your motherboard as well, because Micro-ATX motherboards don't support SLI/Crossfire configurations.
The power supply is 80+ Bronze certified, which means it's a power efficient choice for your build. You won't have to worry about spending excessive amounts of money on your electric bill.
EVGA is a reputable company, well known for many of their great components – this power supply is no exception.
Potential Upgrades
As mentioned previously in certain sections above, it may be a wise decision to upgrade or add certain components to the build for optimal performance.
In this section of the guide, I'll be talking about potential upgrades and additions to the build which will make a big difference.
Samsung 860 EVO 250GB 2.5" Solid State Drive
If you have an extra $70 to spare, I'd highly recommend you add a solid state drive to your build. It will significantly increase your PC's boot speed and responsiveness. Believe me when I say the difference is night and day.
Before I had installed an SSD into my PC, I didn't really know the difference. When I booted up my PC with Windows installed on a 1TB 7200RPM hard drive, it took approximately two minutes before I was able to sign in, and I had to let all of my programs load for another couple of minutes before my PC was actually ready to go. It was almost like the computer had to 'warm up' before I could use it.
Moreover, I had all of my games installed on the same drive. It always took several minute for me to load into a game, especially in Battlefield.
Once I purchased my 250GB SSD, I swapped my Windows OS onto the SSD, along with my drivers and a few of the games I play the most often. When I booted up my PC, I was able to log in within 30 seconds, and I didn't have to wait for my PC to warm up. Additionally, I loaded into games noticeably faster.
Sometimes when many programs are running and they're all installed on the same mechanical drive, it can get bogged down, resulting in your PC slowing down. However, when you install Windows on your SSD, the PC will feel far more responsive overall, making for a much more enjoyable experience all around.
NVIDIA GeForce GTX 1060 3GB
The GTX 1060 is a huge step up from the GTX 1050. If you have an extra $100 to spend, it would be wise to spend it on the GTX 1060. Rather than having to settle for low-medium settings with decent framerates, you could experience games with high-ultra settings in 1080p, while achieving 60+ FPS.
The GPU is the most important part of a gaming PC, so it's important to spend as much as you can on the GPU (proportionally to your budget for the rest of the build, of course). If you purchase a GTX 1060, it will significantly improve your in-game performance. If you can't afford a GTX 1060 right off the bat, you could always sell your GTX 1050 and use the funds to buy a GTX 1060 in the future. However, it's smarter to simply save the extra money and go for the GTX 1060 when you have the money.
16GB of RAM
In the future, it may be wise to add an additional 8GB of RAM to your PC. Unfortunately, with a Micro-ATX case, purchasing additional RAM is going to prove difficult, as there are only two DIMM slots for RAM. You'll either have to purchase a singular 8GB stick right off the bat to leave room for the future upgrade, or just sell your old 2x4GB kit and buy a 2x8GB kit.
Either way, additional RAM never hurts. It's important to note that you're better off buying a GTX 1060 3GB than upgrading your RAM (you'll see a substantially greater impact on performance if you purchased the upgraded GPU as opposed to extra RAM.)
Extra Case Fans
When it comes to increasing the lifespan of your components, airflow is essential. Most cases come with stock fans, although they're usally sub-par.
It's always a good idea to purchase the best after market case fans that you can afford in order to ensure your componets receive adequate airflow and remain cool. You can purchase fans that have good-looking LEDs to match the rest of your build, but make sure that first and foremost, they have fantastic thermal and acoustic performance.
A $400 Gaming PC - Prebuilt?
Though many prebuilt gaming PCs aren't worth the time or the money, there are some viable prebuilt options on the market.
If you know what you're looking for, you can find some great prebuilt alternatives.
If you're on a lower budget, the Dell Inspiron i3650 is another great option.
You can find the PC on Amazon for just $340.
The PC features:
Intel Core i3-6100
8GB DDR3 Ram
1TB Hard Drive
This PC comes without a GPU. Don't worry, this problem is easily solved.
There are lots of powerful and cheap GPUs for sale on eBay. You can easily find a GTX 1050 ti used on eBay for a low cost.
After you purchase the prebuilt desktop and the GPU, you're getting a very capable gaming machine for around $500 or less. This PC can easily game at 1080p. Although it's a bit over the $400 mark, it's pretty great for a prebuilt PC.
More Gaming PC Builds
Price
Name
Image
Components
Build Guide
$400
Extreme Budget Gamer

Intel Pentium G4560
MSI GTX 1050 2GB
Crucial 8GB DDR4-2133
WD RE3 500GB

View
$500
Perfect Balance

Ryzen 3 1200
Gigabyte GeForce GTX 1050 Ti 4GB
Ballistix Sport LT 8GB DDR4-2400 MHz
WD Caviar Blue 1TB

View
$600
Stealth Gamer

AMD Ryzen 3 1200
ASUS GTX 1060
G. Skill Ripjaws V 8GB 2400 MHz
WD Caviar Blue 1TB

View
$700
Phoenix

AMD Ryzen 5 1400
ASUS GTX 1060 6GB
G. Skill Ripjaws V 8GB 2400 MHz
WD Caviar Blue 1TB

View
$800
Monster

AMD Ryzen 5 1400
GeForce GTX 1070 8GB Mini
G. Skill Ripjaws V 8GB 2400 MHz
WD Caviar Blue 1TB

View
Prebuilt
Prebuilt PCs

Intel i7-7700K
GeForce GTX 1060 6GB
16GB DDR4 2400 MHz
1TB 7200RPM + 256GB SSD

View Prebuilt PCs
*prices fluctuate daily. All budgets are within a $50 threshold. Some components may have been adjusted to fit the budget.
Which is Better: PC or Console?
My Thoughts on a $400 Gaming PC
In my opinion, a $400 gaming PC is enough to smash most titles in 1080p. You may not be able to run the games with ultra settings, but overall it will be an enjoyable experience.
When compared to a console, you get MUCH more for your money out of a gaming PC. In fact, I'd go as far as to say the PC build above is a "console killer".
Think about it:
when you build a gaming PC, you're really building a machine that can play video games with great performance, AND a computer! Your gaming PC can watch YouTube, render videos, stream, use photoshop, type word documents, code, mine cryptocurrency… the list goes on and on.
Of course, if you can manage to save a bit extra, you'll experience far better performance. a $500-$700 gaming PC is ideal, but you'll still get good performance from a $400 rig.
Intel Pentium G4560 vs. Ryzen 3 1200
The Pentium G4560 is Intel's first line of Pentium processors to feature hyperthreading – when we read between the lines, it's quite clear that Intel implemented hyperthreading technology when they saw Ryzen on its way.
The Ryzen 3 1200 has four true cores as opposed to the Pentium G4560's two physical cores. The Ryzen 3 1200 wins in nearly every category besides single threaded performance – however, Ryzen's benefits realaly shine through once overclocked.
In my personal rig, I was able to overclock my Ryzen 3 1200 to 4.0 GHz with the stock cooler. For ~$110, the Ryzen 3 1200 is a steal.
On the other hand, the Pentium G4560 really packs a punch for its price of less than $100. It remains the best budget gaming CPU for those on an extreme budget – that's why we chose it for this build. Although a Ryzen 3 1200 is ideal, especially for multitasking, the G4560 definitely gets the job done.
Thanks to the G4560's hyperthreading technology, it functions as though it has four cores. For more information about hyperthreading, click here.
At the end of the day, the Pentium G4560 is perfect for those on a tight budget. Furthermore, any CPU will do as long as it doesn't bottleneck. The G4560 is the perfect CPU for the GTX 1050, our GPU of choice for this pricerange. With that in mind, it's safe to say a Ryzen 3 1200 may be overkill for a $400 gaming PC.