Updated May 26th, 2018 by Jacob Tuwiner
This is the #1 best gaming PC under 400 dollars for your money in 2018. All of the parts have been hand picked with the best price to performance in mind.
A $400 Gaming PC - Prebuilt?
Though many prebuilt gaming PCs aren't worth the time or the money, there are some viable prebuilt options on the market.
If you know what you're looking for, you can find some great prebuilt alternatives.
If you're on a lower budget, the Dell Inspiron i3650 is another great option.
You can find the PC on Amazon for just $340.
The PC features:
Intel Core i3-6100
8GB DDR3 Ram
1TB Hard Drive
This PC comes without a GPU. Don't worry, this problem is easily solved.
There are lots of powerful and cheap GPUs for sale on eBay. You can easily find a GTX 1050 ti used on eBay for a low cost.
After you purchase the prebuilt desktop and the GPU, you're getting a very capable gaming machine for around $500 or less. This PC can easily game at 1080p. Although it's a bit over the $400 mark, it's pretty great for a prebuilt PC.
The Extreme Budget Gamer
Nowadays, it can be pretty tough to build an affordable gaming PC. Although GPU prices have come down a bit, they're still expensive, especially compared to their price about a year ago.
Take a look at this graph of GPU prices over time:
Prices have cooled off since then, but they're not what they used to be – it might be a bit difficult to build an affordable gaming PC if you don't know where to look.
Fortunately, though, we've got your back. The Extreme Budget Gamer is a budget oriented gaming PC, designed with the best price to performance in mind. Here at Easy PC, we ensure you get the most bang for your PC gaming buck!
This build ensures you only spend money where it is necessary.
$400 wasn't quite enough for the Ryzen 3 1200, so we had to go for the Intel Pentium G4560. Don't worry – it's the best budget CPU on the market. Even though it's just a dual-core, it has hyperthreading, effectively making it a quad-core CPU.
For the GPU, we went for the GTX 1050. Although a 1050 Ti is ideal for this price range, it is a bit too expensive for the build (at least, without going over the budget).
The 1050 is perfect for e-sports titles like CS:GO, League of Legends, Dota 2, etc. If you want to play more intensive games, you might want to check out our $500 gaming PC build. Remember, the more you can save for your PC, the better it will be!
If you have the extra money, try to buy an SSD, as they significantly improve your PC's loading speeds. While it won't have any impact on framerate, it will affect boot speeds, and improve your PC's overall usability. We HIGHLY recommend buying one! (Due to the build's low budget, we couldn't fit one in – however, if you have an extra $60, you can buy a 240GB SSD, perfect for Windows, drivers, and games.)
Keep reading for the full build guide!
The Case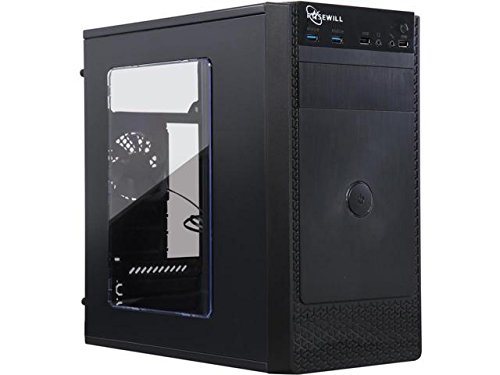 The case is more than just a pretty looking box. In fact, it is much more than that.
A good case must be:
Eye catching
Aerodynamic (if you will)
The right size
Spacious
Compatible for you
These factors must be kept in mind when deciding which case is right for you. This is why the Rosewill - FBM-X1 MicroATX Mini Tower Case is the case of choice for this build.
This case is an amazing deal. For under $30, you're getting a case with a side panel window, and front panel USB 3.0 headers.
Most cases with these features are usually in the $40+ range. Furthermore, cable management is no problem.
Cable management is important to keep in the back of your head when wiring your PC.
Not only does it make the inside of your PC look better, it improves airflow. This helps to keep your PC nice and cool while you're pushing it to the limit. You can read the reviews of this product here.
For more information on cases, check out our guide on the smallest ATX cases!
Specs:
Type - MicroATX Mini Tower
Color - Black
External 5.25" Bays - 1
Internal 3.5" Bays - 1
Internal 2.5" Bays - 1
Motherboard Compatibility - Micro ATX, Mini ITX
Maximum Video Card Length - 11.81"
The Processor
The Pentium G4560 is the perfect choice for any budget gaming computer.
Here's why:
Though most games are not very processor intensive, it is still important to have a processor that can keep up with the graphics card without bottlenecking.
The Pentium G4560 has a base clock of 3.5GHz, which is less than the i3-6100's clock speed of 3.9GHz.
But that is the best part.
Due to the brand new Kaby Lake architecture, it can be paired with 2400MHz ram. What does this mean?
It means that using higher frequency ram can compensate for the processor's frequency deficit.
But here's the kicker:
Even though this processor can be found for $60, it outperforms the i3-6100, which is priced over $100.
Specs:
Cores - 2
Threads - 4
Hyperthreading - Yes
Base Frequency - 3.5 GHz
TDP - 54 W
Cache - 3 MB
Lithography - 14 nm
Memory Types - DDR4-2133/2400, DDR3L-1333/1600 @ 1.35V
Hyperthreading technology is what makes this processor so powerful. Though it only has 2 physical cores, each core is able to process 2 threads, instead of just one.
So what?
This means it effectively has 4 cores, not 2.
Each thread acts as its own core. The processor, instead of having just 2 physical cores, now has 2 physical and 2 theoretical cores. Video games, editing softwares, etc. detect 4 cores, not two.
Since most games utilize all 4 cores of a processor, this is quite beneficial for in-game performance.
The Motherboard
The MSI Intel B250M PRO-VDH micro-ATX motherboard is the motherboard of choice for this build.
This motherboard is budget friendly and easy to use. It doesn't have any fancy features, but it gets the job done which is exactly what we're looking for.
What's the bottom line here?
For around $50, you are getting a component that will not only do a great job, it will do that job for a long time.
Specs:
Socket - 1151
Chipset - Intel® B250 Chipset
Memory - DDR4 2400/ 2133 MHz
Memory Channel - Dual
DIMM Slots - 4 x 288-pin DIMM
Max Memory (GB) - 64
The Ram
For this build, one 8GB Stick of Crucial RAM was selected.
Prices of RAM are through the roof, and it can be difficult to fit 8GB into a budget build; lucky for you, we did just that.
It's 2018 and most games require 8GB of ram now. Some are recommending the use of 12GB and even 16GB.
You could save some money if you chose 4GB of RAM instead, but there are many games that won't even launch anymore with only 4GB of RAM.
On the contrary, 8GB is still good for gaming right now, and there's always room for upgrades in the future.
Specs:
Type - 288 pin DIMM
Speed - DDR4-2133
Size - 8GB (1x8GB)
The Hard Drive
The WD Caviar Blue 1TB 7200RPM internal HDD has become the standard mass storage drive of budget gaming PCs. It offers a TB of fast, reliable storage for just $50. It's really a great deal, and it's hard to beat it.
We didn't have the budget for an SSD which isn't ideal; however, this build can be easily upgraded to accomodate multiple HDDs or SSDs.
While an SSD is optimal for your OS and games, it doesn't actually have any impact on your FPS or graphics. This PC is a gaming PC, and it's being designed to provide the best in-game performance for the money.
However, SSDs do make a pretty big difference in boot speeds and the overall user experience of your PC in my opinion. You can buy a 120 GB SSD for just $50 or a 240GB SSD for $70. The 240GB SSD offers double the storage and more storage per dollar.
The Graphics Card
The GPU is the component of the PC that handles all of the 3D rendering. If you're building a gaming PC, this is the part you should really focus on.
You don't need the fastest CPU on the market, as most games don't utilize much of the CPU's processing power. You'll get the best gaming performance if you buy the best GPU that you can afford. This means sacrificing some power elsewhere in the build.
I see prebuilt gaming PC manufacturers selling PCs with 16GB of RAM, an i7 CPU and an old crappy GPU. They trick uneducated consumers into buying their PC which is advertised as a gaming PC, when really it won't perform well at all.
In this build we picked a budget friendly CPU and only 8GB of RAM, but we were able to include a good GPU.
For this build, we're going to be using the MSI GTX 1050 2GB. While you won't be maxing out every game with 60 FPS, you can definitely achieve 40-60FPS with a mix of medium-high settings in 1080p resolution. On a $400 budget, this is pretty darn good.
In my opinion one of the main drawbacks of this GPU is the amount of dedicated video memory (VRAM). If you want to turn your textures up to ultra, you'll need a decent amount of VRAM. With this GPU you'll have to turn your textures down a bit, but other than that it'll be fine.
This video shows this card's performance in 8 different games. The number in the top-left corner of the screen is the FPS counter.
As you can see, this GPU really packs a punch for the price.
Chipset - GeForce GTX 1050
Memory Size - 2GB
Memory Type - GDDR5
Base Frequency - 1.35 GHz
Boost Frequency - 1.46 GHz
TDP - 75 Watts
Length - 7.17"
The Power Supply
It's important to choose the right power supply, as they can make or break your build (literally).
If your power supply isn't up to par, your PC won't even turn on. If your PSU isn't efficient then your electricity bill will soar. Worst case scenario, your PSU short circuits and damages or destroys the some or all of your components.
Lucky for you, we've got you covered. Corsair has a great selection, and the CX 450 80+ Bronze Certified PSU made the cut for our budget.
It's a power efficient and reliable PSU, providing the perfect wattage for the build. It also allows for some overclocking later down the line if you choose to do so.
Specs:
Type - ATX
Wattage - 450 Watts
Fans - 1
Modular - No
Efficiency - 80+ Bronze
PCI-Express 6+2-Pin Connectors - 2
More Gaming PC Builds
Price
Name
Image
Components
Build Guide
$400
Extreme Budget Gamer

Intel Pentium G4560
MSI GTX 1050 2GB
Crucial 8GB DDR4-2133
WD RE3 500GB

View
$500
Perfect Balance

Ryzen 3 1200
Gigabyte GeForce GTX 1050 Ti 4GB
Ballistix Sport LT 8GB DDR4-2400 MHz
WD Caviar Blue 1TB

View
$600
Stealth Gamer

AMD Ryzen 3 1200
ASUS GTX 1060
G. Skill Ripjaws V 8GB 2400 MHz
WD Caviar Blue 1TB

View
$700
Phoenix

AMD Ryzen 5 1400
ASUS GTX 1060 6GB
G. Skill Ripjaws V 8GB 2400 MHz
WD Caviar Blue 1TB

View
$800
Monster

AMD Ryzen 5 1400
GeForce GTX 1070 8GB Mini
G. Skill Ripjaws V 8GB 2400 MHz
WD Caviar Blue 1TB

View
Prebuilt
Prebuilt PCs

Intel i7-7700K
GeForce GTX 1060 6GB
16GB DDR4 2400 MHz
1TB 7200RPM + 256GB SSD

View Prebuilt PCs
*prices fluctuate daily. All budgets are within a $50 threshold. Some components may have been adjusted to fit the budget.
Which is Better: PC or Console?
My Thoughts on a $400 Gaming PC
In my opinion, a $400 gaming PC is enough to smash most titles in 1080p. You may not be able to run the games with ultra settings, but overall it will be an enjoyable experience.
When compared to a console, you get MUCH more for your money out of a gaming PC. In fact, I'd go as far as to say the PC build above is a "console killer".
Think about it:
when you build a gaming PC, you're really building a machine that can play video games with great performance, AND a computer! Your gaming PC can watch YouTube, render videos, stream, use photoshop, type word documents, code, mine cryptocurrency… the list goes on and on.
Of course, if you can manage to save a bit extra, you'll experience far better performance. a $500-$700 gaming PC is ideal, but you'll still get good performance from a $400 rig.
Intel Pentium G4560 vs. Ryzen 3 1200
The Pentium G4560 is Intel's first line of Pentium processors to feature hyperthreading – when we read between the lines, it's quite clear that Intel implemented hyperthreading technology when they saw Ryzen on its way.
The Ryzen 3 1200 has four true cores as opposed to the Pentium G4560's two physical cores. The Ryzen 3 1200 wins in nearly every category besides single threaded performance – however, Ryzen's benefits realaly shine through once overclocked.
In my personal rig, I was able to overclock my Ryzen 3 1200 to 4.0 GHz with the stock cooler. For ~$110, the Ryzen 3 1200 is a steal.
On the other hand, the Pentium G4560 really packs a punch for its price of less than $100. It remains the best budget gaming CPU for those on an extreme budget – that's why we chose it for this build. Although a Ryzen 3 1200 is ideal, especially for multitasking, the G4560 definitely gets the job done.
Thanks to the G4560's hyperthreading technology, it functions as though it has four cores. For more information about hyperthreading, click here.
At the end of the day, the Pentium G4560 is perfect for those on a tight budget. Furthermore, any CPU will do as long as it doesn't bottleneck. The G4560 is the perfect CPU for the GTX 1050, our GPU of choice for this pricerange. With that in mind, it's safe to say a Ryzen 3 1200 may be overkill for a $400 gaming PC.